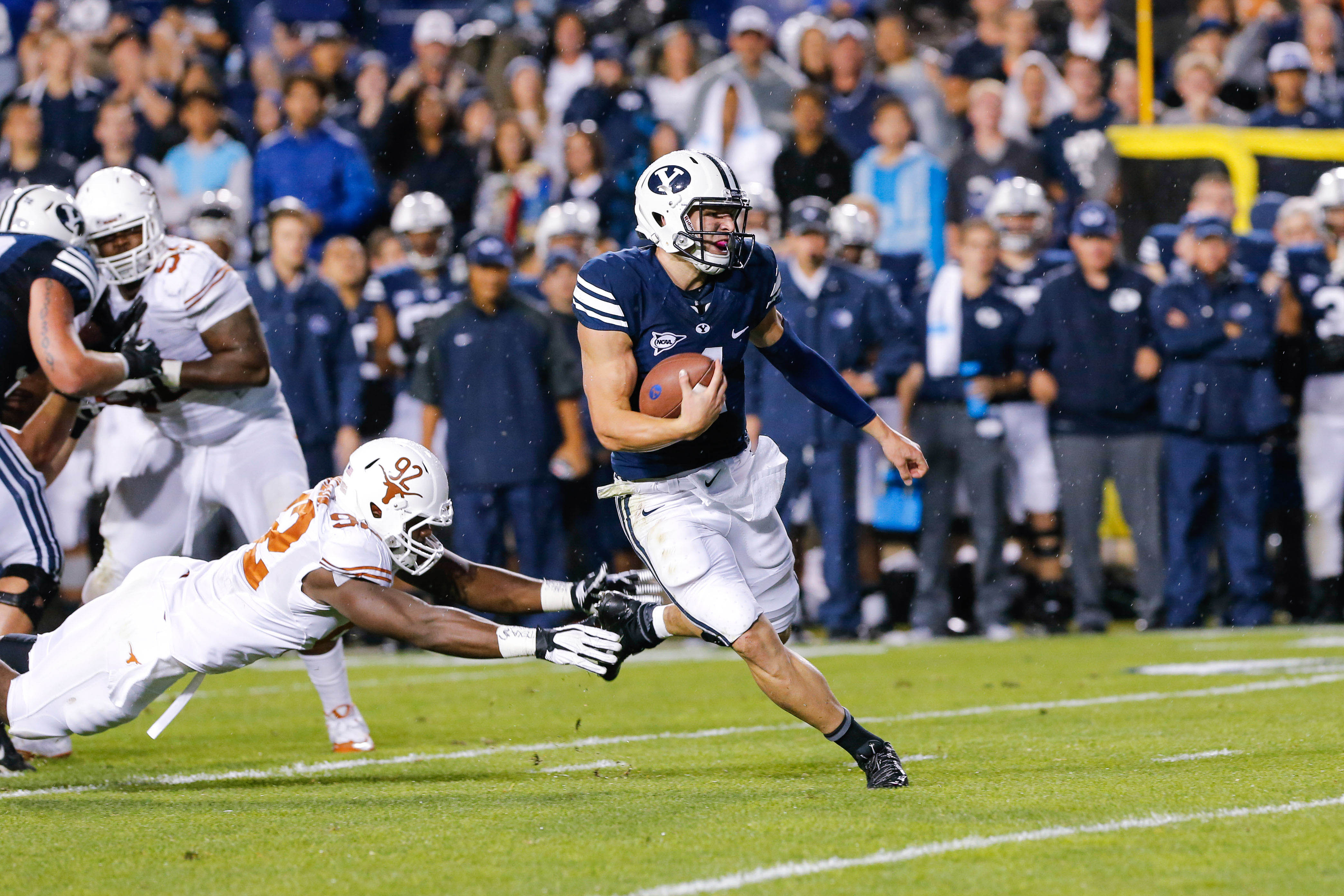 loyalcougars.com
I have to admit, I am not particularly excited about the 2014 BYU football season.
Reasons:
1. That beat down the Cougars took from Washington last December has really stuck with me. The Huskies were nothing special, but they rolled over BYU on offense and defense the entire night, with an interim coach on the sidelines. I don't know that nine months is enough time for the players involved in that debacle to improve a whole lot.
2. Taysom sounds like he is still Taysom. Incredible runner, but in fall camp, he struggled with accuracy. One play he'll hit a streaking Kurtz perfectly in stride down the sideline for a TD, and the next play a 15-yard pass over the middle to a tight end is in the dirt. It's maddening that he can't seem to put it together.
3. BYU hasn't won their first three games of the season since 2008. 2008! It's almost a guarantee that this team will drop a game sometime in the next couple of weeks, and now that BYU is Independent, that solidifies a trip to the
Miami Beach Bowl
in December, no matter what.
So here we are. BYU starts its campaign against the mighty Huskies of Connecticut, a team that won three games last season and is very much a football team at a basketball school. I mean, some schools can manage to be good at both major sports (see Florida), but mostly, to be elite at one, you must be terrible at the other. The saving grace for UConn is that BYU is traveling to the Eastern Time Zone for this game, and has historically been pretty awful when asked to fly that far east in the past. Look no further than the 2013 opener against a terrible Virginia team; spoiler: BYU lost 19-16. This was Virginia's only Div-I win of the entire year. Ouch.
Also in the Huskies' favor is their returning quarterback, Casey Cochran. All three of the team's wins last season came at the very end of the season, and Cochran started all three of those. He even had four touchdown passes in the final game of the year in a 45-10 win over Memphis. While BYU's secondary is rumored to be the best its had since 1996, I still worry when a capable passer matches up against the Cougars.
And while I am very excited about BYU's wide receiver corp this season, we won't see two significant pieces of that group in this game. Nick Kurtz is out for at least four weeks, and probably closer to 6, and junior college transfer
Devon Blackmon is suspended
for the Connecticut game after an unspecified violation of either team or BYU rules. That said,
UTEP transfer Jordan Leslie
has also turned a lot of heads at fall camp, and he'll be ready to go, along with returning wideout Mitch Matthews, who is fully recovered from a shoulder injury he sustained last season.
Another missing piece is starting running back Jamaal Williams, who will miss the Connecticut game due to an arrest earlier this year for underage drinking. Backups Algernon Brown and Adam Hine should be enough to match up against the Huskies, however.
But for me, the million-dollar question is: how improved will the offensive line be? Those guys were anywhere from bad to awful much of the 2013 season, and memories of them getting beat up the middle and to the outside time and time again are seared into my memory. Taysom's accuracy issues can in part be attributed to the line not giving him much time at all.
BYU's latest depth chart,
released today
, shows some familiar names from last fall, but the important thing is that reportedly, there are fewer guys being rolled in and out of the offensive line on a play-to-play basis. Cohesion is important in the trenches, and know what the other guys on the line with you are capable of is valued. Here's hoping coach Tujague can find some consistent starters.
All things considered, I see an ugly win for BYU this Friday, along the lines of 19-13, to go with a 9-win season and a general meh feeling to the season. If, however, BYU stomps the Huskies by 40 and Taysom looks unstoppable, let the hype train begin!